Reverend Doctor James H. Harris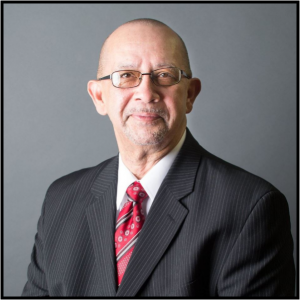 Currently, Rev. Dr. James H. Harris serves as the proud Pastor of Historic St. James AMEC, Pittsburgh PA where he was licensed to preach under his father, Rev. Dr. J. G. Harris, in 1973. Previously, Rev. Dr. James H. Harris served as the Presiding Elder of the Cleveland District in the North Ohio Annual Conference. A native of Pittsburgh PA, he has served as pastor of Bethel AMEC, New Castle PA; Bethel AMEC, Scranton PA; Greater Morris Chapel AMEC, Farrell PA; United AMEC, Xenia OH; Brown Chapel AMEC, Cincinnati, OH and Greater Avery AMEC, Cleveland, OH, Park Place AMEC, Homestead PA
Rev. Harris has had a long productive career serving the AME Church for 43 years. He began his ministry at the age of 17 and in 2004 he was a candidate for Bishop at the General Conference in Indianapolis IN. He has served as a member of the General Board from 1988 to 2004 serving on the Commission on Budget and Finance, the Commission on Church Publications and the Executive Board of the General Board. At the 2016 General Conference in Philadelphia PA, Dr. Harris was again elected to serve on the General Board for the 2016-2020 Quadrennial serving on the Statistics & Finance Commission, Commission on Retirement Services and the Commission on Economic Development.
Academically, Dr. Harris graduated from Wilberforce University, BA, 1989; Payne Theological Seminary, MDiv, 1992 and United Theological Seminary, DMin in 1995. Dr. Harris served as an Adjunct Professor of Religion, Philosophy and Ethics at Wilberforce University, Senior Thesis Supervisor in the C.L.I.M.B Program at Wilberforce University and as a Substitute Teacher in the Streetsboro City School District.
Dr. Harris is a member of Alpha Phi Alpha Inc.; Pride of the Valley #95 Most Worshipful Prince Hall Grand Lodge of Ohio F&AM, Cincinnati OH and a 33rd Degree Mason, Bezaleel Consistory #15, Cleveland OH, Northern Jurisdiction USA.
Dr. Harris is an avid fisherman and loves to play golf. Favorite Football Team is the Pittsburgh Steelers.
Married to Gloria and the father of 5 children; Ramon, James Jr., Lisa, Kisha and Marshe.
Favorite Scripture; Psalm 27:13, "I had fainted, unless I had believed to see the goodness of the Lord in the land of the living."